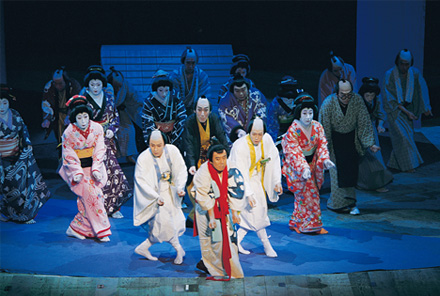 This weekend I got my first full-length taste of kabuki and, boy, was it delicious.
This form of Japanese theater is fantastic and fascinating to watch — for its dramatic acting, stylized makeup and simple, effectual music — but it's even better when you have some sense of what people are saying. Lucky for me, the Cathay Cineplex in Singapore was hosting the Cinema-Kabuki Festival. The beauty of theater at the movies is that I could see subtitled, film versions of two plays.
One was the beautiful Kyokanoko Musume Ninin Dodoji. The other was the brilliantly funny Noda Version Togitatsu no Utare.
One of the best ways to learn about a genre is to see a parody of a genre. Togitatsu was so well done that, even through translations of puns, I laughed to the point of tears several times. Like Om Shanti Om is to Bollywood, Togitatsu is a really interesting introduction to kabuki. It's an ode to an art form that artfully pokes fun at itself. With modern dance moves. Think West Side Story. If you get a chance to see this production, don't miss it.